James Perry Hendrickson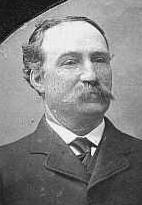 James P. Hendrickson
James Perry Hendrickson was born March 18, 1848 in Frederick, Miami Co., Ohio, the son of William Hendrickson (1815-1863) and Sarah Sinks (1814-1868).
In 1850 he was living with his parents in Union Twp., Miami Co., Ohio. The 1860 census taker found the family in Monroe Twp.
He enlisted July 18, 1863 in Captain Neal's (G) Company, 25th Regiment, Ohio National Guard. He gave his age as 16, although he was only 4 months past his 15th birthday. He was honorably discharged on May 1, 1866.
Soon after his discharge, James Perry moved with other brothers and sisters to near Palestine, Crawford County, Illinois. There on Dec. 3, 1867 he married Rose Ann (Rosa) Hackett. The couple had three children: Charles A. (1868-1877), Henry (no information) and Ella (1873-1899). Rose Ann (Hackett) Hendrickson died two weeks after the birth of her third child. She is buried in Oak Grove Cemetery, Lamotte Twp., Crawford Co., Ill.
On Jan. 8, 1880 in Crawford Co., James Perry married as his second wife, Ethe Linda Martin.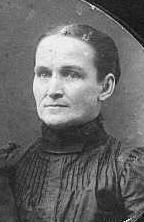 Ethe Linda Martin
Ethe Linda Martin was born Sept. 14, 1862 in Ervin Twp., Howard Co., Ind., the daughter of John Henry Martin (1830-1866) and Sarah Cassandria Bright (1831-1892).
Sometime between 1862 and 1866, the family moved to Crawford Co., Ill. It was there that Ethe Linda's father died on April 1, 1866 and was buried in Oak Grove Cemetery in Lamotte Twp. And sometime between 1866 and 1870 the family moved back to Montgomery Co., Ohio, where the census taker found them in Jackson Twp.
The family moved back to Crawford County again prior to 1880 when James Perry and Ethe Linda were married. The 1880 census reports James Perry living with his wife's family (mother Sarah, brother Alvin and sister Laura) again in Lamotte Twp.
James Perry and Ethe Linda had six children: Fleda Mae (1881-1937), Bertha Joy (1882-1962), Luther Ray (1883-1967), Walter Lee (1885-1961), Leslie Guy (1887-1989) and Paul B (1896-1990).
When a 1905 fire destroyed their rented farm home in Crawford County, James Perry and his family moved to rural Newell Twp., Vermilion Co., Ill. They lived near what was known as Walnut Corner, on the road between Bismarck, Ill., and State Line, Ind., until 1913 when James Perry and his wife, Ethe Linda, and son, Paul, moved to 1211 Dakota St. in Danville.
At age 66, James Perry went to work for the C. & E. I. Railroad -- continuing through the years of World War I and apparently until shortly before his death.
Ethe Linda (Martin) Hendrickson died on May 14, 1923 at the house on Dakota Street. She is buried in Atherton Cemetery near Danville. Her brother, the Rev. Josephus Perry Martin, came from Dayton, Ohio, to preach the funeral.
Her youngest son, Paul B, had married in March of 1923 to Cecil Frances Rife, a near-neighbor on Dakota Street. The newlyweds lived with James Perry at the Dakota Street home until 1928 when they moved to the house Paul built for them on Lake Street in Danville.
According to his obituary, James Perry became ill in mid-July of 1929 and moved to the home of his daughter, Mrs. Bertha Colliflower, in Hutsonville, Crawford Co., Ill. He died there on Aug. 31, 1929. He is buried in Atherton Cemetery near Danville. Rev. Martin, who had preached at Ethe Linda's funeral, also preached at services held in Hutsonville for James Perry.