<! -- The second column; space only -->
Josephus Perry Martin
An Autobiography
1853 - J.P. Martin - 1930
Introductory:
I have, in my time, often said that I would never "grow old" and my Mother as often said that I would always be a boy. But, regardless of our sayings, the years accumulated and old age, thief like, arrived. I am now well past my seventy-sixth mile stone and life's voyage runs more swiftly with succeeding and increasing years.
I am now in that stage of life's journey where almost every inclination is to seek the path of least resistance and almost every desire is to look backward. This is the inevitable battle ground of old age and all who begin to stoop beneath the weight of accumulating years find themselves fighting its battles. Some of us fight the foes of this battle-ground more vigorously, others of us fight them less vigorously and all of us fight them more or less successfully.
An Old Quilt:
My Wife and I have on our bed an old fashioned patch-work spread, she calls it a quilt. It is made up of hundreds of different sized, shaped and kinds of pieces of calicoes, ginghams and muslins pieced and joined together in artistic fashion and conforming to some major design or pattern. This quilt is a picture of life, and reminds me of its variegated patch work of time, circumstance and deed.
My Wife has several of these old time and old fashioned relics of by gone days, survivors of the wear and tear of long and constant hard usage, and bearing the stamp thereof on themselves. The fragmentary material of which these quilts are made was sought and accumulated by her from her many associates during her childhood and early girlhood. Each piece therefore is a souvenir of other days and scenes, and hence the quilt becomes an album of sacred memories. And with her own industrious and skillful hands she shaped, selected and joined these pieces into their present form of beauty and usefulness while yet in her girlhood. How differently the girls of that period employed their hands and occupied their time from what the girls of today do. But then we are the creatures of time and circumstance, and our life conduct changes with the trend of events -- such as human life.
All these memories of the friends and friendships of the long ago thus kindly brought together and under the skilful manipulation of her industrious fingers wrought into these emblems of beauty and comfort thus are transformed into a memorial shaft endearing and enduring. Those of us who know about these things can understand and appreciate the beautiful picture herein suggested, and others who do not know about them may not be interested and are excused.
Those of us who have reached the seductive borderline where we would rather look backward than forward and rather dwell in retrospect than live in activity invariably have unfurled before our mental vision a symbolic memory quilt made up of the patch work of our past life. How like the parts and designs of a patch work quilt are the many and variegated issues of human life on earth.
The Topography Of My Activities:
From East Liverpool in northwestern Ohio to Evansville in southwestern Indiana lies a, to me, enchanted territory drained by the picturesque Ohio river and including the limitations of my human activities. This beautiful river is bordered on her eastern and southern brink by the states of Pennsylvania, West Virginia and Kentucky, and on her western and northern brink by Ohio, Indiana and Illinois. The lowlands of this river are sometimes on one side thereof and sometimes on the other side and sometimes on both sides; sometimes they are inundated by flood and sometimes they are parched by drought; and seductively receding therefrom are the beautiful hill-wards on both sides of the river. Herein is found my "halidom" and from hence is gathered the material which has piecemeal been transformed into the patch work of my life quilt. For more than forty years the writer went and came herein as an independent Bible lecturer and teacher. Like the lowlands of the Ohio his ministry was sometimes on one side of this river and sometimes on the other side and sometimes on both sides, in lowlands and hill wards; sometimes it was inundated with blessings and sometimes parched with adversity. And the river itself bears its waters to the ocean as time bears my life toward its goal.
It Was Said A Child Is Born:
Family tradition relates that I was born to John Henry and Sarah Cassandria Martin in an old, stone house in Madison township, Montgomery county, Ohio, near New Lebanon. It is further related that this, to me, important event transpired about 3 a.m. September 29, 1853, and that the doctor and both of my parents, especially my mother, was duly present and on the job. It is still further related that I arrived on time and in the usual manner. And it has since been my privilege to assert that I not only arrived but remained, though remaining is becoming more precarious each year as they multiply and succeed each other on the stoop of time. It is my honor to be the first-born of my parents -- a brother and four sisters followed in due time and order. My parents were young, religious and hopeful so they proudly named me Josephus and the old doctor added crustily: Why not call the little, red imp Joshua Moses Abraham and kill him and be done with it. They said of this old doctor that he carried his rough side on the outside. I hope that this is true.
Preparing A Nest For Their Fledglings Contemplated
Now that I was here the next important step with my parents was to decide what to do with me. Hence nest building for the protection and comfort of their present and prospective fledglings henceforth became an engrossing problem and occupation. About that time they had procured eighty acres of unbroken forest land in Defiance county, Ohio. But before they became located there they learned that water and frogs had possession of most of it, and that the remainder of it was infested with pesky mosquitoes and deadly malaria, and that its graveyard facilities were a way above par. Notwithstanding that they were of sturdy Pennsylvania and Virginia stock they were not quite heroic enough to pursue the adventure further, so they disposed of it and turned their attention elsewhere.



<! -- The second column; space only -->

<! -- The fifth column -->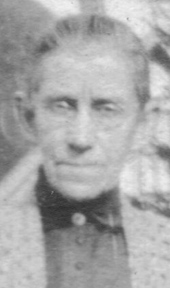 Mary B.(Bright) Martin